Medispa Naturals is a cutting edge professional skincare line in Canada. We understand that new and innovative products that are effective are a must in the spa industry. Our team of pharmaceutical chemists have carefully formulated Medispa Naturals skincare using natural ingredients designed for traditional cosmetics but reduced the molecular structure of the ingredients so they produce a dermatological effect. The key to our scientific excellence is in the size of the molecules in our products, smaller and finer molecules are better absorbed into the skin layers, releasing the ingredients into the second layer of the epidermis. With some of our products a warm flash is experienced for a few seconds when first applied to the skin. This flash stimulation feeling is the product absorbing deep into the dermis. Our product lines include retail and professional size serums and creams and specialty masks.
---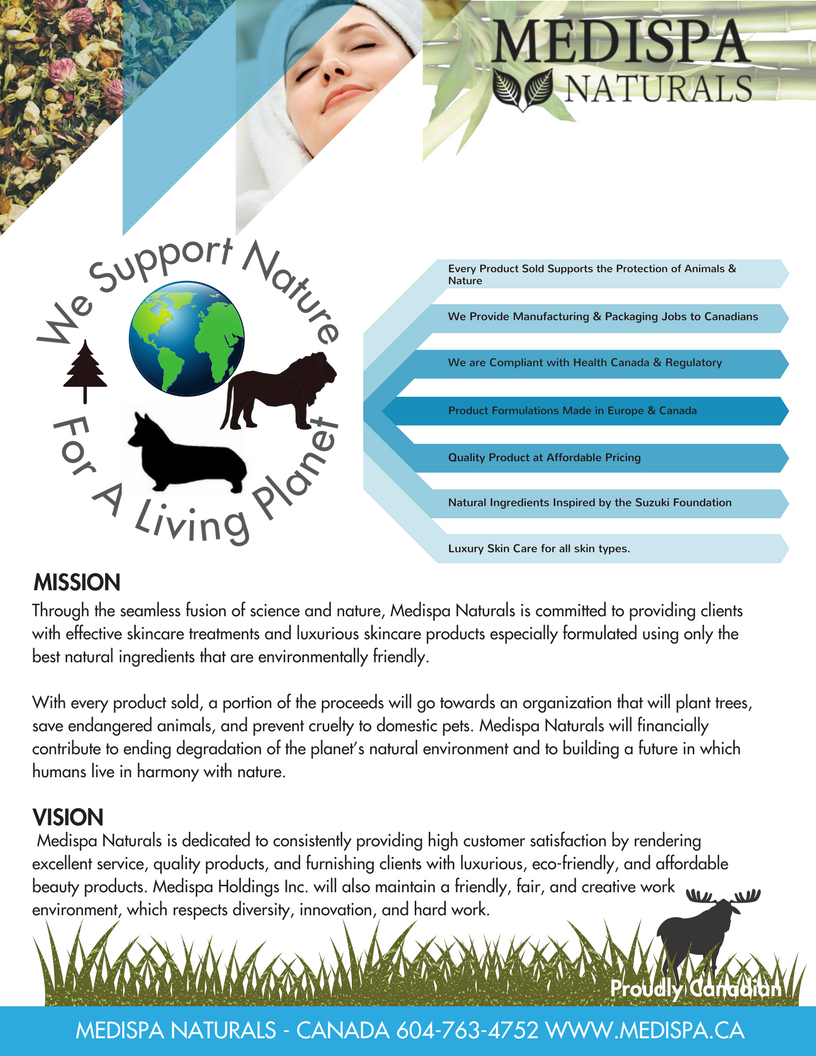 Bakas Naturals : Nutraceuticals

Nutraceuticals are oral health products, and the latest trend in the spa industry, formulated to improve the skin's appearance and overall health of the body. Bakas Naturals from the Netherlands specializes in pure hydrolyzed collagen tablets that are 97% identical to our own natural collagen in our body. Beautycol collagen supplements are the perfect combination to promote alongside quality skincare.

Bakas Naturals has the secret recipe to the perfect formulation for proper body absorption. They source their patented ingredients and plant extracts from the purest and highest quality sources globally.

W8 Balance

W8-Balance is a weight control product that combines Garcinia Cambogia and Triphala, a powerful fruit known for its amazing health benefits. Their secret blending formulation make it a unique weight loss product unlike others. Balancing weight, improved glucose metabolism, appetite suppressant, increased serotonin productions and improved energy are just some of the benefits from this supplement.

BeautyCol

Beautycol will improve skin appearance by 90%, reduce the look of fine lines and wrinkles by 31%, thicken hair and nails by 15%, and improve hydration by 28% after 4 weeks of use. Collagen is essential to our skin, bones, joints, hair and nails. This supplement contains hydrolyzed collagen, Vitamin C, Hyaluronic acid, Coenzyme Q10, natural amino acid and anti-oxidants.
---
Introducing Our New Cosmetics Line



SEMI PERMANENT EYEBROW KIT

Dramatic Eyebrows shape the face and give a glamorous look. Drawing the perfect natural-looking eyebrows is made easy with the Tana Eye-Brow kit. The compact powder is available in dark or blonde and comes with 3 colour-coordinated shades which can also be used as eye shadow.

EGYPT WONDER DAY & NIGHT LIPSTICK

The individually adaptive lipstick colour from Egypt-Wonder Day + Night Lipstick enables over 100 shades in just one product. This thinking lipstick adjusts to each person's PH and pigmentation providing the perfect shade for that person.
---
Medispa Holdings Inc.
New Online Ordering available now: www.medispa.ca
Or email your order to: [email protected]
Call: 604-763-4752
Fax: 250-821-4192